Ministry of Agriculture & Animal Husbandry : Marine Fisheries Card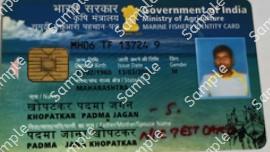 The scheme for the issuance of bio-metric identity(ID) cards to coastal fishermen at a total cost of 72.0 crore INR was launched by the Department of Animal Husbandry, Dairying Fisheries, Ministry of Agriculture and Farmers Welfare on 11th December 2009.
The basic objectives of the scheme were:
To empower every Indian coastal fisherman through the issuance of application-oriented bio-metric ID cards
To establish a National Marine Fishers Database (NMFD) which can be accessed by all authorized agencies, both at the Central and state/UT levels
To strengthen coastal security and reduce threats from sea routes
Issuance of National bio-metric ID cards/Marine Fishers Identify Cards (MFIDS) to eliminate duplications of cards presently issued to fishermen by different agencies/states.
More than 12 lac. Cards have been issued.