Department of Agriculture and Food Production : BKKY(Family Health Insurance Card)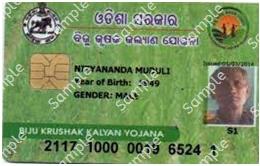 Biju Krushak Kalyan Yojana (BKKY) is a Health Insurance Scheme for the farmers of Odisha. The objective of BKKY is to provide protection to households from financial liabilities of hospitalization. Beneficiaries under BKKY are entitled to hospitalization coverage up to Rs. 1,00,000/- for most of the diseases that require hospitalization .The main features are:-
This scheme is cashless scheme where premium is paid by the Government directly to the health care providers.
More than 62 lakh Cards have been issued.
Every beneficiary family issued a biometric enabled Smart Card.
Smart Card is protected with symmetric key based security which will provide tamper proof storage of user data.
Symmetric key based architecture (SKI) will ensure the authenticity of the card holder.
Authorized Smart Card holder can avail the cashless hospital services.
Three-tier of Key Management System (Hierarchical representation of keys) for BKKY was done by the NIC software.
The Project followed three-tier Architecture structure:-
State Level (SKGA Module)
District Level(DKMA Module)
Field Level(FKO Module)
The Software Modules included following :-
Issuance Module of Smart Cards: Personalization (Writing of HOF and member's demographic data in the Smart Card) of Smart Card was  done by the NIC software. Key injection and verification  modules of Smart Card were also developed by NIC.
Hospital Transaction Security Module: Verification of Beneficiary Smart Card Writing transaction details in the card to maintain treatment history which included balance modification after every discharge.
Beneficiary data Updation Module: Post personalization Updation(like member addition or deletion) of the beneficiary Smart Cards.